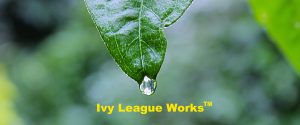 IvyLeagueWorks™ gives clients the highest doctorate-level standard by delivering freelance consulting services and niche products to veterans and translator services for businesses. You have found what you are looking for if you seek the unique talents of a multi-specialty consulting services and a freelance team that has educational talents ranging from Hopkins, Harvard, and an MBA, to a Master of Public Health and a medical doctorate!
Here's how IvyLeagueWorks™ can solve y
our

unique need…

• Ivy League Consulting™ brings out the best in those seeking to improve their personal value.  A team of Ivy League-educated consultants brings out the best in those who desire to realize challenging goals.  A primary service of Ivy League Consulting™consulting services is supporting our U.S. veterans.  Veterans frequently need detailed and focused medical writing reviews of medical standards literature that support their independent positions as they process their appeals with the VA.

• Ivy League Translators™ meets a growing demand for business-to-business and business-to-customer translator services. In-person interpretation consulting services are offered in certain countries, so be sure to ASK!  Spanish-English and English-Spanish interpreter and translator services are currently offered.  English as a second language is a new teaching service available for children and youth.

• Ivy League Writing™ delivers medical writing, aviation technical writing, copywriting, workshop presentations, ghostwriting, and academic writing from backgrounds in medicine, mental health, public health, and aviation and airport management and the U.S. military.

• Ivy League Marketing™ consulting services offer business plans, branding identity, and market analysis. Ivy League Marketing™ also offers Ivy League Designs™ consulting services to add visual applications to these services with a director of graphic design.

For the latest information, go to Facebook and "like" IvyLeagueWorks™. 

IvyLeagueWorks™ has the solution to y

our

 unique need!
Tell Ivy League Works™ by clicking the button:  NOW.

Ivy League Works™ is exclusively owned and operated by Great Life 4 You Holdings Corporation. Use of this page, and others on this domain constitutes acceptance of the Terms of Service and Privacy Policy. No part of this domain may be copied, or changed in any format, sold, or used in any way without its express, written permission.